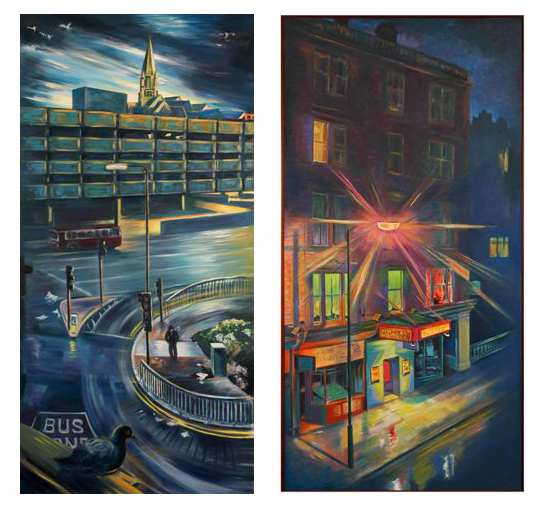 A fascination with moonlight, night time and its transformative effects on the landscape has inspired many artists of the past.   We think particularly of Adam Elsheimer, Joseph Wright and Samuel Palmer, whose paintings convey the magic and mystery of the daily scene lit by the glimmer of moonlight.
Rosemary paints in the middle of a city with its streetlights, multiplicity of window panes, shiny surfaces and rainy streets.   These are the views that first inspired her 'Nightworks' series in the late 1980s when she started to rent a city studio on Carrington Street, in Nottingham, intent on producing work on a larger scale than had been possible before but having to work only at night.  The immediate result of this was her impressive drawing 'Night on Carrington Street' later to be the source for 'Honeymoon Hotel'.  People will no doubt be reminded of the American artist, Edward Hopper, when they look at 'Honeymoon Hotel' and its accompanying drawing.  This is mere coincidence of subject matter as Rosemary does not claim his influence on her work.  She explains that her studio, with its high vantage point, three floors above the busy city street, inspired her to tackle new subjects and, in particular, to observe and paint at night, since her daily lecturing job prevented her in the main from working in day light.   Also she felt it imperative to break away from her art school training, which favoured abstract treatment over her preferred subject – based representational style.  Rosemary has said that her main concern as an artist is to offer a viewing experience as near to reality as possible.  She wants firstly to recreate a sense of place, then time of day and a variety of transitory weather conditions.
The present exhibition takes us from drawings and paintings of city streets and motorways at night, via works made during and after visits to Portugal in the 1990's to the area that has really absorbed and engaged Rosemary since 1992 – Box Art.  Spurred by Nottingham Castle's challenge to artists to produce art in boxes for its annual winter show, Rosemary constructed her first piece of Box Art in 1991.   Wayside shrines in Portugal, with their hinged doors and candles within, provided yet another inspiration for this new work and led to dealing with the technicalities of light boxes.   This is beautifully shown in the small 'Candle Box' and related works, 'Still Life with Lantern' with its mini version 'Still Life + Mirrors'.  Sound is added in 'Stormy Night, Isle of Man', an interactive piece first shown in her memorable exhibition at Ilkeston's Erewash Museum.  Open the shutter, shine a beam from the torch provided and put on the earphones.  You will be transported to a wild rocky coast, hear the crash of waves and the screams of seagulls!
These are not self consciously arty pieces of work.  They stem from this artist's energetic and inquisitive approach to the challenge of making visible her awareness of the actuality of things.  To this end Rosemary makes her drawings on black paper, to give greater emphasis when using pastels, then places them inside black shuttered boxes to create a window like effect so that the viewer, wearing black gloves provided, may open wide or reduce the aperture for different experiences.  In the large paintings of Sherwood lit by street lights and of Portugal at dusk, striking contrasts are made between the vivid colours of leafy foliage and the bluey purple shadows of night. To increase the sense of presence in the Portuguese series, 'Night Walk', they are placed end to end, for the viewer to perceive this Portuguese yard as a reality. Rosemary wants to create a voyeuristic sensation and certainly this is evident in her latest small light boxes of views of Toronto and Vancouver Island.  There is considerable innovation in these highly original pieces.  How are they made?  It is something of a secret!  Rosemary is most willing to describe many aspects of her work but understandably some technical matters are copyright.  What is evident is an excitement with the visible world communicated with verve and ingenuity.
Pauline Lucas, December 2006