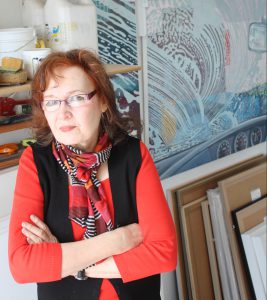 Rosemary Wels was born in Guyana, moving to the UK where her art and design training began with an Art Foundation course at Brighton. Subsequently she studied at Kingston upon Thames, achieving a DIP AD in Fine Art (Painting and Printmaking) and finishing with an ATD from Cardiff University.
She continued to produce work as well as lecture in Further Education until 2003 when she went freelance and focused on producing and exhibiting her work. She had mainly exhibited in the Midlands, entering most of the Opens and holding several solo shows, until participating in a group show in London in 2014.
She is a member of Leicester Print Workshop where recent prints by her featured in the Passion to Print exhibition held there and in two other locations.
She has most recently been involved in a collaboration with Meghan Gray, a university astronomer, which resulted in her making a multi discipline piece for the Pint of Science Festival at Nottingham Contemporary.
ARTIST'S STATEMENT 2017
Duchamp, referred to Monet as a 'retinal' artist, by which he meant an artist who painted what he saw rather than ideas. Thinking about this made me realise that my recent work is decidedly 'retinal'.
For some time I focussed on night based work, urban landscapes and motorway images. The fleeting quality of night led to other transient conditions such as condensation and the effect of rain on a transparent umbrella, as in 'Fletcher Gate, Rain', or a windscreen as in 'Night (Rain) in King's Cross'.
The work is about transience and the process of looking and seeing through layers. The aim is to present everyday experiences transformed by being realised in layers of paint. For many years I worked with printmaking and this now informs my work.
EXHIBITIONS
SOLO SHOWS:
Seeing Through, Wallner Gallery, DH Lawrence Pavilion, Nottingham Lakeside Arts. 3rd August – 15th September 2019
Weather Works, Nottingham Society of Artists Gallery 2009
Drawing the Moon, Nottingham Society of Artists Gallery 2006

SELECTED OPENS + GROUP SHOWS:
St Mary's Church, Nottingham, Light Night, 23rd February 2018
Nottingham Contemporary, Pint of Science – Creative Reactions May 2017
Leicester Print Workshop, Passion to Print 2016
Brick Lane Gallery, 'Seven' October 2014
NSA Gallery, Night Light Exhibition March 2014
New Art Exchange, Opus Studio Group Exhibition August 2012
Tarpey Gallery, Midlands Open 2012
Castle Museum + Art Gallery Open, 2011, 2009, 2007
Nottingham Society of Artists Gallery, 6 Artist Printmakers (Curator) 2010
Thoresby Gallery Open, September 2008, 2009, 2010, 2013 + April 2011
View at the Top Gallery,  Illustrators Show, 2008
Yard Gallery, Contemporary Artists, 2007, 2008
Derby Museum + Art Gallery Open, 2005, 2007
Djanogly Gallery: Contemporary Art Auction, 2007
Nottingham Contemporary Artists Festival Exhibition, Photographers Hub, 2006
TALKS
2018, March – 'From Van der Neer to Van Gogh, Paintings of Night' – West Bridgford U3A.
2018, February – 'RAVILIOUS & CO' – Nottingham Society of Artists.
EMPLOYMENT
On going – Art & Art History Group, Nottingham. Starts September, Jan and April.
2005 – 2017 – Drawing with Confidence, a WEA course
2016 – Inspired by Leonardo – Drawing Workshop at Nottingham Castle Museum.
2010 – What is Contemporary Art? a WEA course.
2007 – Introduction to Printmaking.
2003 – 2008 – Moderator for Edexcel and freelance workshops.
1976 – 2003 – Lecturer in Art & Design at Clarendon / New College Nottingham.
ART EDUCATION
Cardiff – Art Teachers Diploma
Kingston – Dip. A D Fine Art / Print (BA equivalent)
Brighton – Foundation in Art and Design
DESCRIPTION OF WORK
The work is generally large, mainly oil on canvas and is often undertaken in series including one four canvas installation.
Processes include drawing, original prints (mainly screen and woodcut) digital work and light boxes.
Limited edition archival prints are available of many of the works featured on the website.
CONTACT ROSEMARY WELS:
Please contact for any information about exhibitions, tuition or commissions.
Email: